DATES
>> 2016 April 18 - 23
10VE:Sequence for Two - video installation
Athens Biennale - Transmission Art Festival
Gallery space of Romatso Bios,
Bagkeion building of the Athens Biennale 2015-2017"OMONIA"
Athens, Greece
>> 2016 January 22 - 24
10VE:Sequence for Two - video installation
Athens Video Dance Project 2016
Athens, Greece
>> 2015 Sep 24 - 26 12 20:00h - 22:30h
KulturHerbst 2016
Theater Spielraum
Vienna, Austria
>> 2015 August 21st - 20:30h
DobiaLab - Dobia, Italy
>> 2015 July 5th 20:30h - 21:30h
ALL THAT s JAZZ Festival
curated by Moving Poets at Kunst am Spreeknie
Schöneweide Art Festival
Novilla Art Space
Berlin, Germany
>> 2015 Mai 9th 21:30h - 01:00h
Žagarė Fringe Festival
Mulano Palace
Žagarė, Lithuania
>> 2015 April 27th - Mai 2nd 16:00h - 20:30h
NODE Festival for Digital Arts
Wrapped in Code – The Future of the informed Body
Studio I, Mousonturm Theater
Frankfurt, Germany
>> 2014 November 4th 20:00h Premiere
ATALAIA Artes Performativas Festival
Antiga Cadeia
Ourique, Portugal
>> 2014 June - August
ATALAIA Artes Residency
Cineteatro
Ourique, Portugal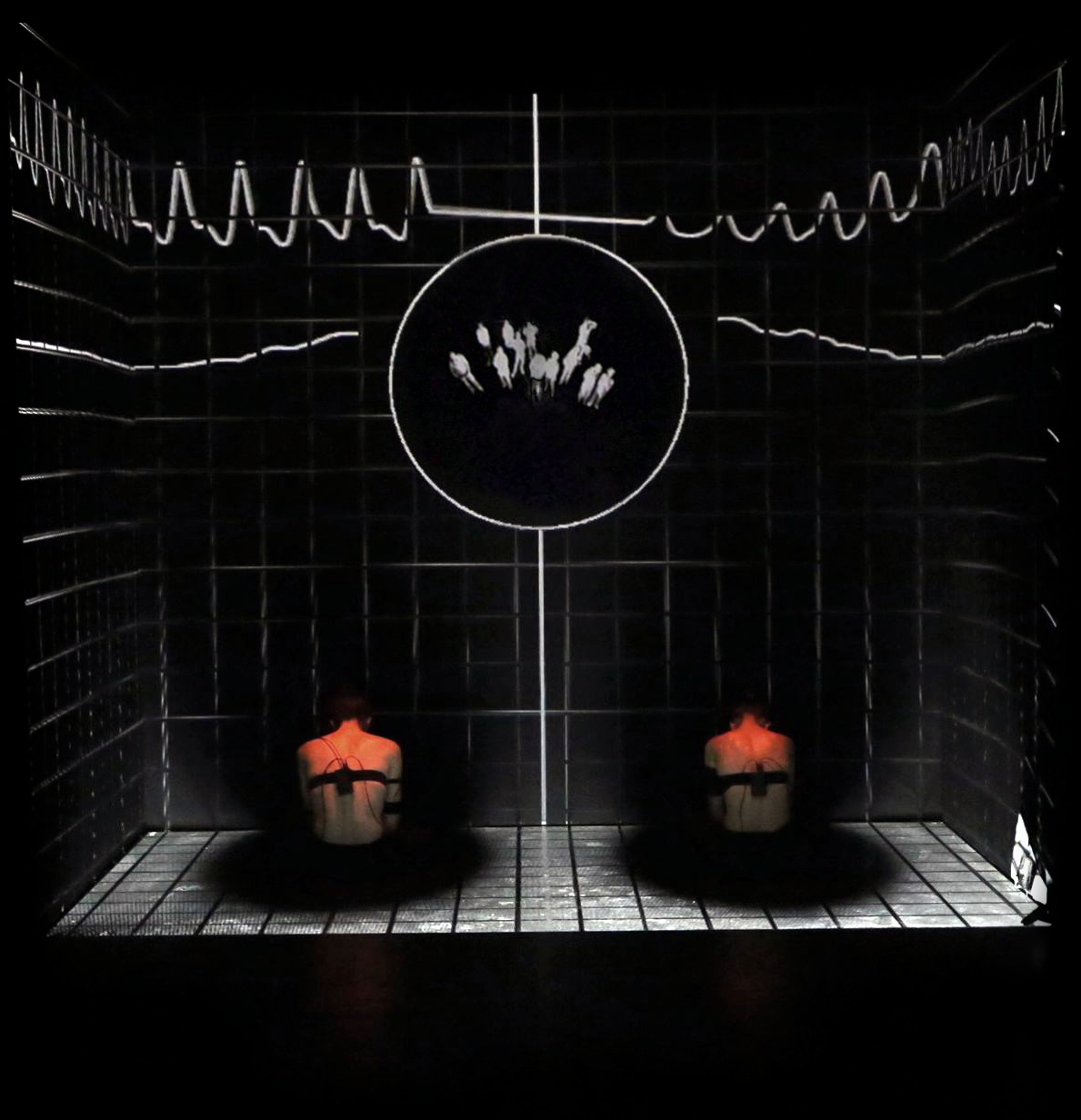 AB0UT 10VE
"10VE" is a participatory musical biofeedback and movement composition for two actuators and an audience investigating on the relationship between surveillance and private space by interconnecting contemporary electronic music, performance and participatory art through technology. The project started in 2014 by Antoni Rayzhekov and Katharina Köller within the ATALAIA Artes art residency, Ourique - Portugal and with the support of BKA – Kunst, Austria.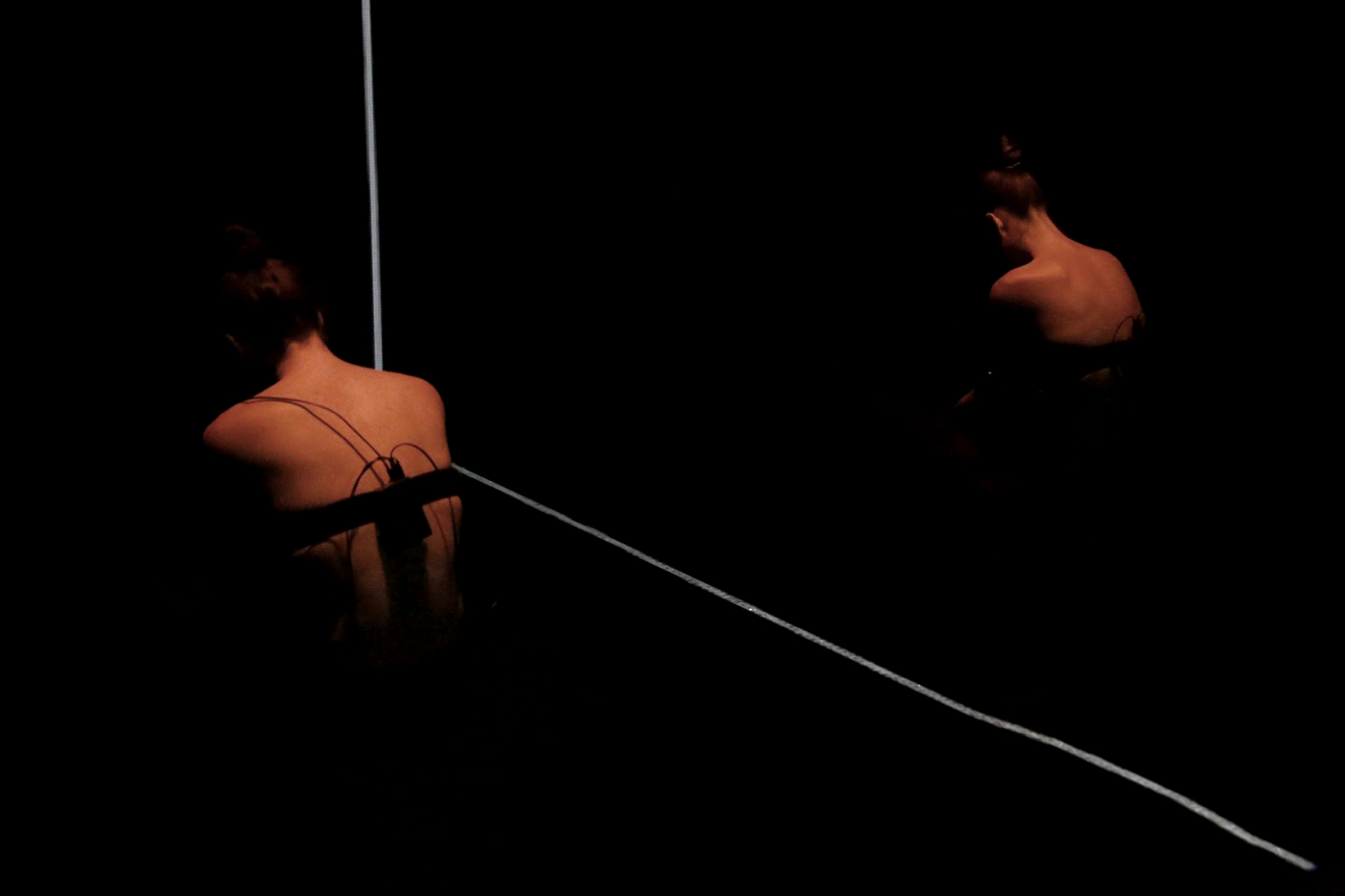 We built a special biometric device that tracks our bio-signals, such as tension level, heart beat, breath and movement, as well as a motion detection system tracking the audience´s presence, all together forming an unique audio-visual instrument controlling the audio-visual composition during the performance. By sonifying the emotional relation between us - as performers - and between us - as one group with the audience, we create a musical representation of the psycho-physical processes occurring in all of us during the 20 min. musical performance.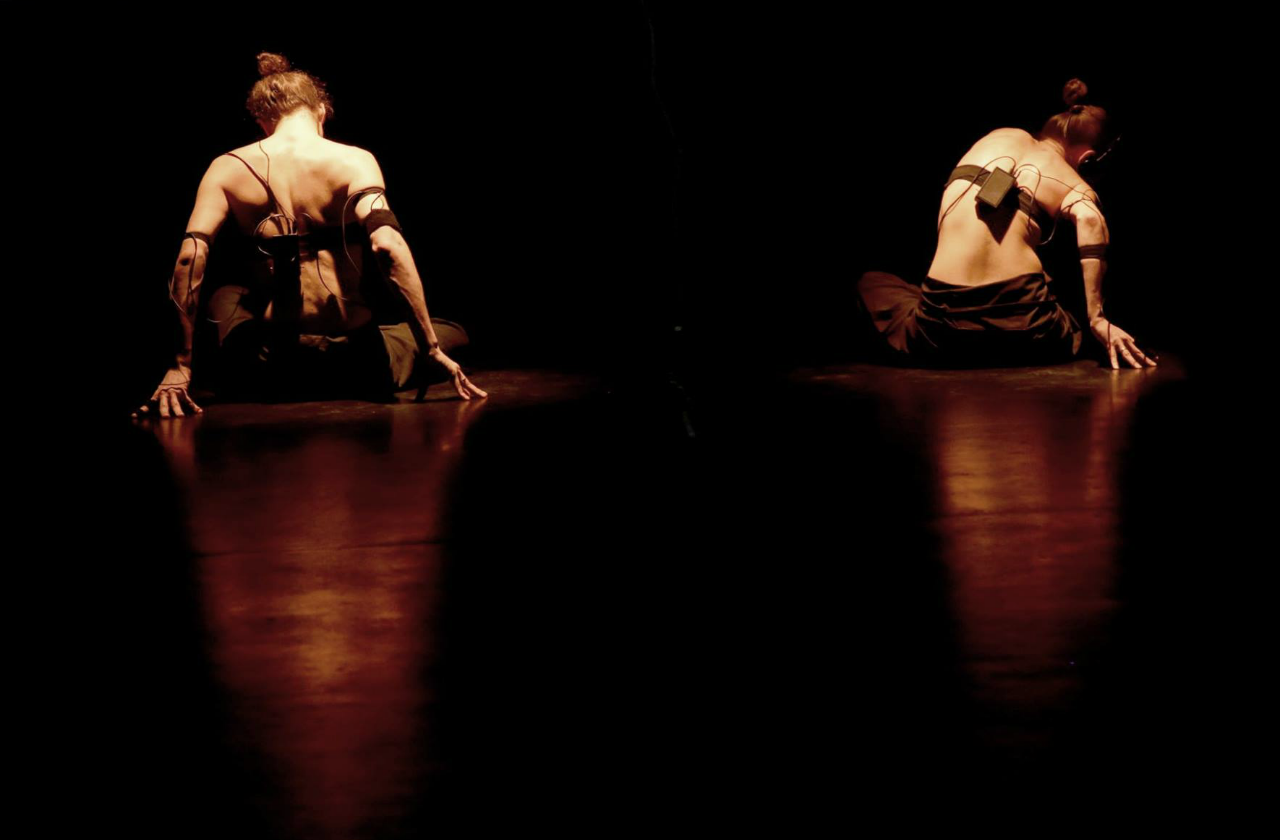 "In 10VE the performers' bodily states are both the result of the act of performing as well as the show itself. The piece makes visible the emotional state shared between the audience and the performers as each influences the other. By measuring these "psychophysical" processes, 10VE also raises the question regarding the agency that data affords, in that it not only documents behaviors but also facilitates behavioral change. Here, that cycle is taken to the extreme, creating a real-time feedback loop and a confluence of synergistic forces that exemplify the visceral impact that data can have."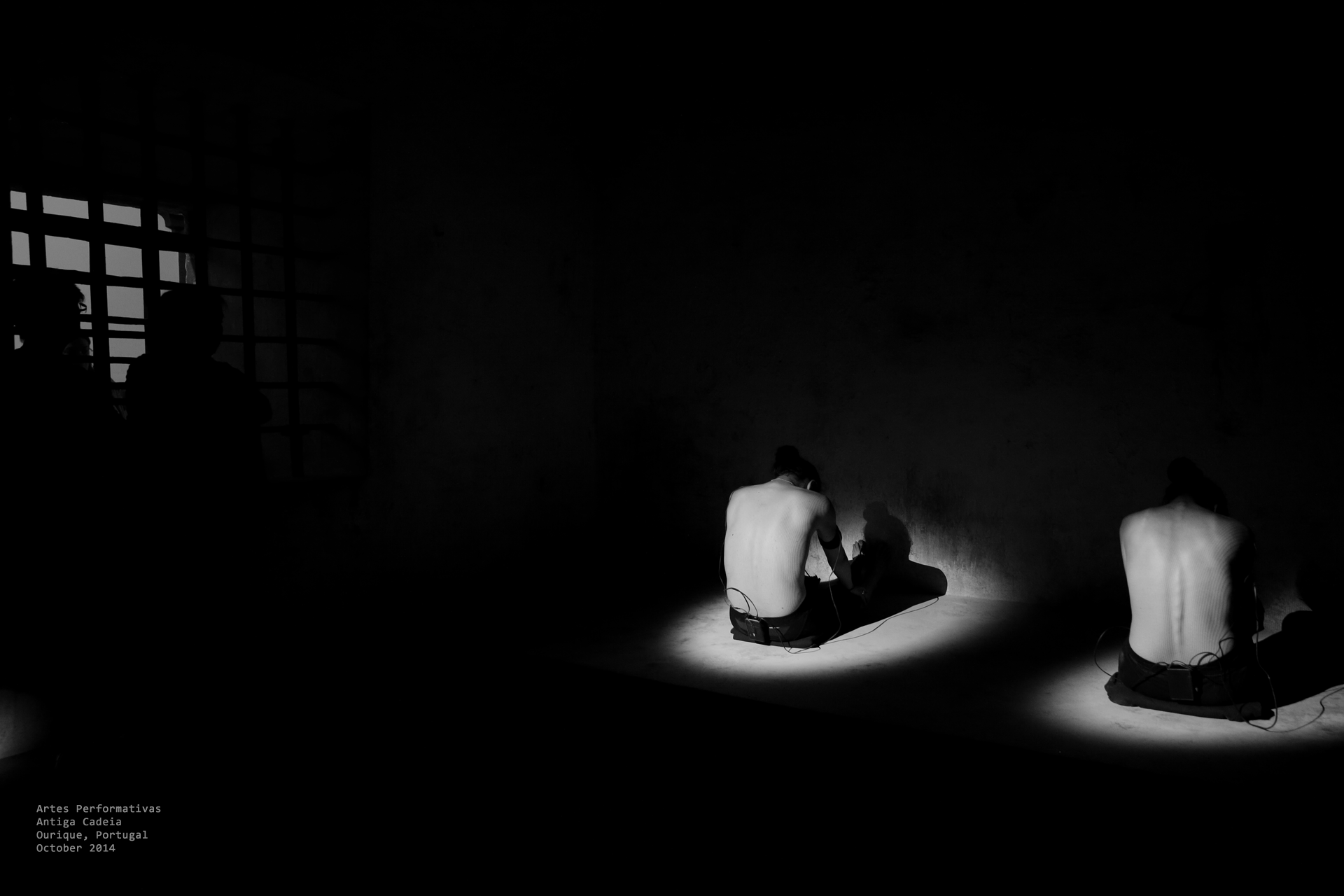 Within our modern and "transparence society" the question of private space has to be asked anew. What is private space today? Originally private and public space were clearly deferrable from each other. Nowadays there is a new public space, a global public space, that stretches over country boarders and continents, that reaches deeply into the ex-private space of apartments and sleeping rooms, into friendships and intimate love-relationships - the digital space.

We expose ourselves permanently to this new, digital publicity, where we can model the private, where we can invent ourselves anew and stream our optimized-selves into the digital world.

At the same time we see ourselves confronted with a new phenomenon. Private information is often, without our knowledge and approval, collected by governmental institutions and commercial enterprises. "Governments and enterprises have converted the internet into an unprecedented zone of mass surveillance", Glenn Greenwald, 2014 Facebook-inventor Mark Zuckerberg comments this development as follows: "Privacy is no longer a social norm", Mark Zuckerberg, 2010 The influence that the public space has over the handling of the private is often invisible.
HIST0RY OF 10VE
Antoni Rayzhekov and Katharina Köller started to develop 10VE in summer 2014 at their artist in residency at ATALAIA Artes in Ourique, Portugal, with a support from BKA – Kunst, Austria.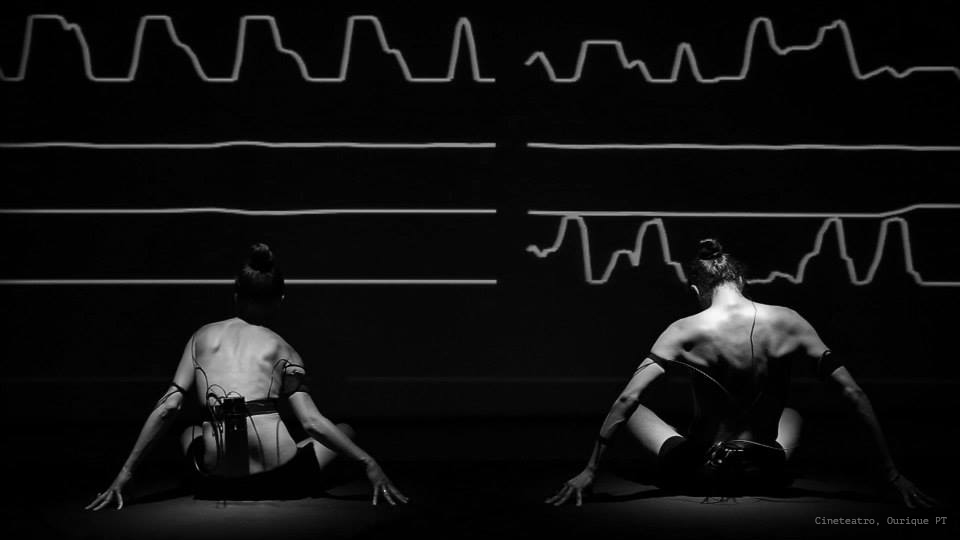 The two performers, noted as actuators, form one of the participatory musical instruments in the composition. Each performer is equipped with an Aparatus - specially designed wireless bio-sensor array tracking their heartbeat, breath, tension level and movement. The Aparatus is based on Sense/Stage - a research-creation project between Concordia University and McGill University in Montreal, Canada - maintained by Marije Baalman (STEIM,NL). We customized the device by adding sensors, wearable enclosure and additional software to analyze the bio-signals.

| | |
| --- | --- |
| | |
By controlling their breaths, tension levels and movements - the performers are driving the generative music software. We employ VVVV, MAX/MSP and Ableton Live to create a musical software that translates and control algorithmically the sonification process.
At the Festival Artes Performatives in October 2014 10VE was shown for the first time in Ourique, Portugal in Antiga Cadeia, the old city prison of Ourique, that was used for political prisoners under the dictatorship of António de Oliveira Salazar. The performance was approximately 10 minutes long and was played 12 times in a time frame of approximately 3 hours for an audience of around 7 people per performance.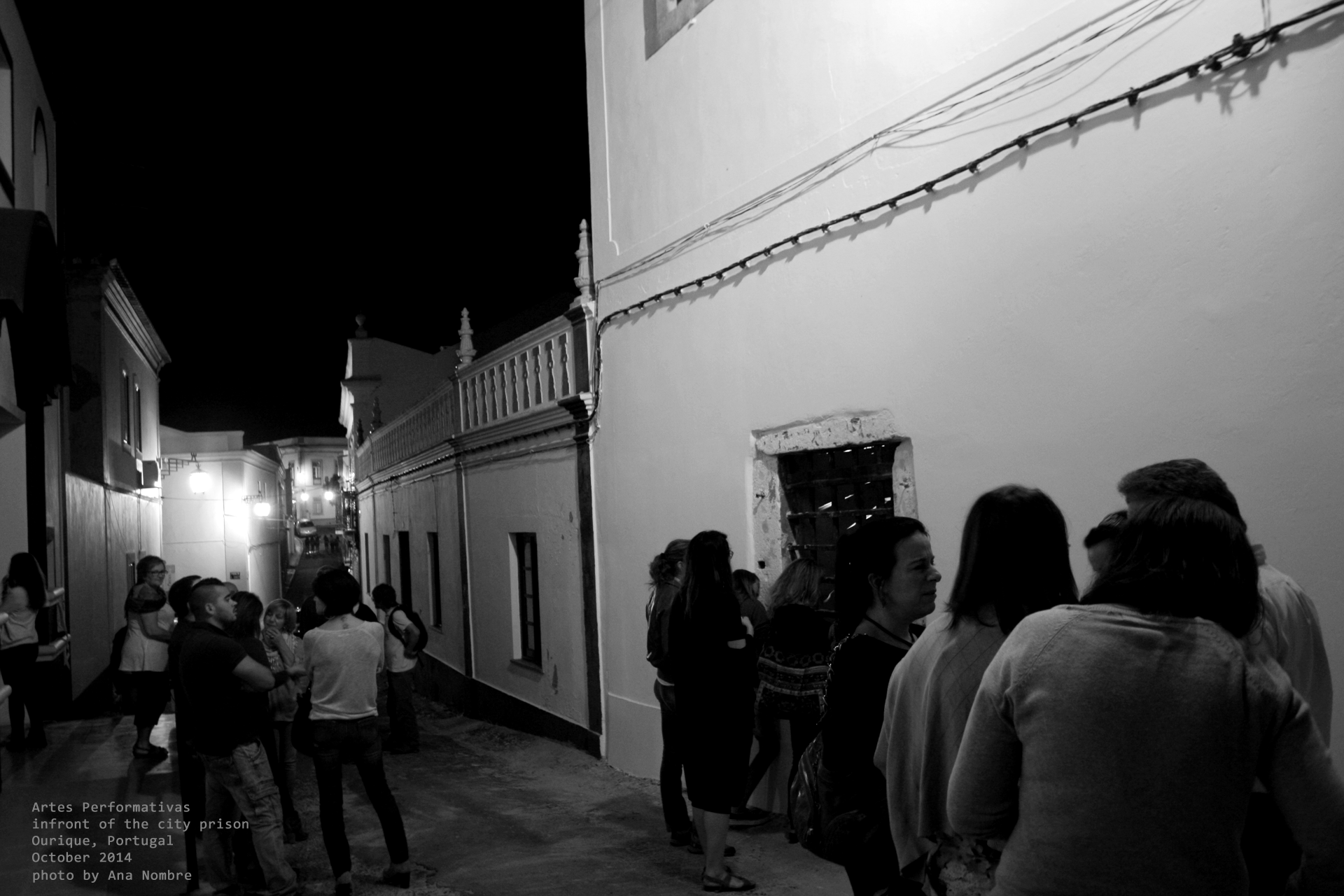 | | | |
| --- | --- | --- |
| | | |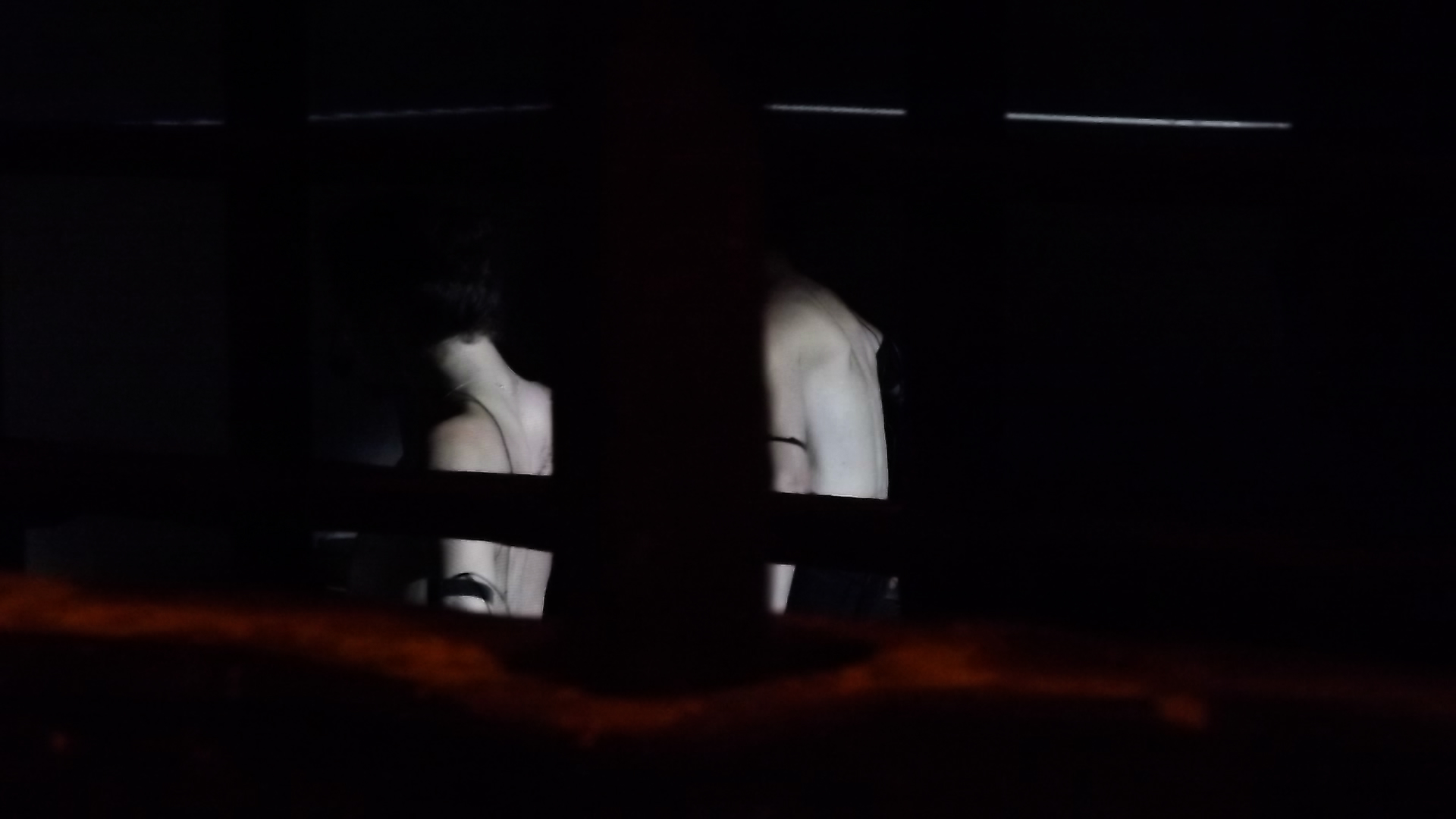 The performance 10VE was invited to NODE15 Festival in Frankfurt, Germany in May/April 1015. Antoni Rayzhekov and Katharina Köller played 10VE during the exhibition &quote;NODE: Wrapped in Code – The Future of the informed Body&quote;, for 6 days, 4 performances per day, for an audience of maximum 15 people per performance in Mousonturm Theater in Frankfurt, Germany. At NODE15 Antoni Rayzhekov held the workshop &quote;BodySensors&quote; together with Jens A. Ewald, based on the project 10VE.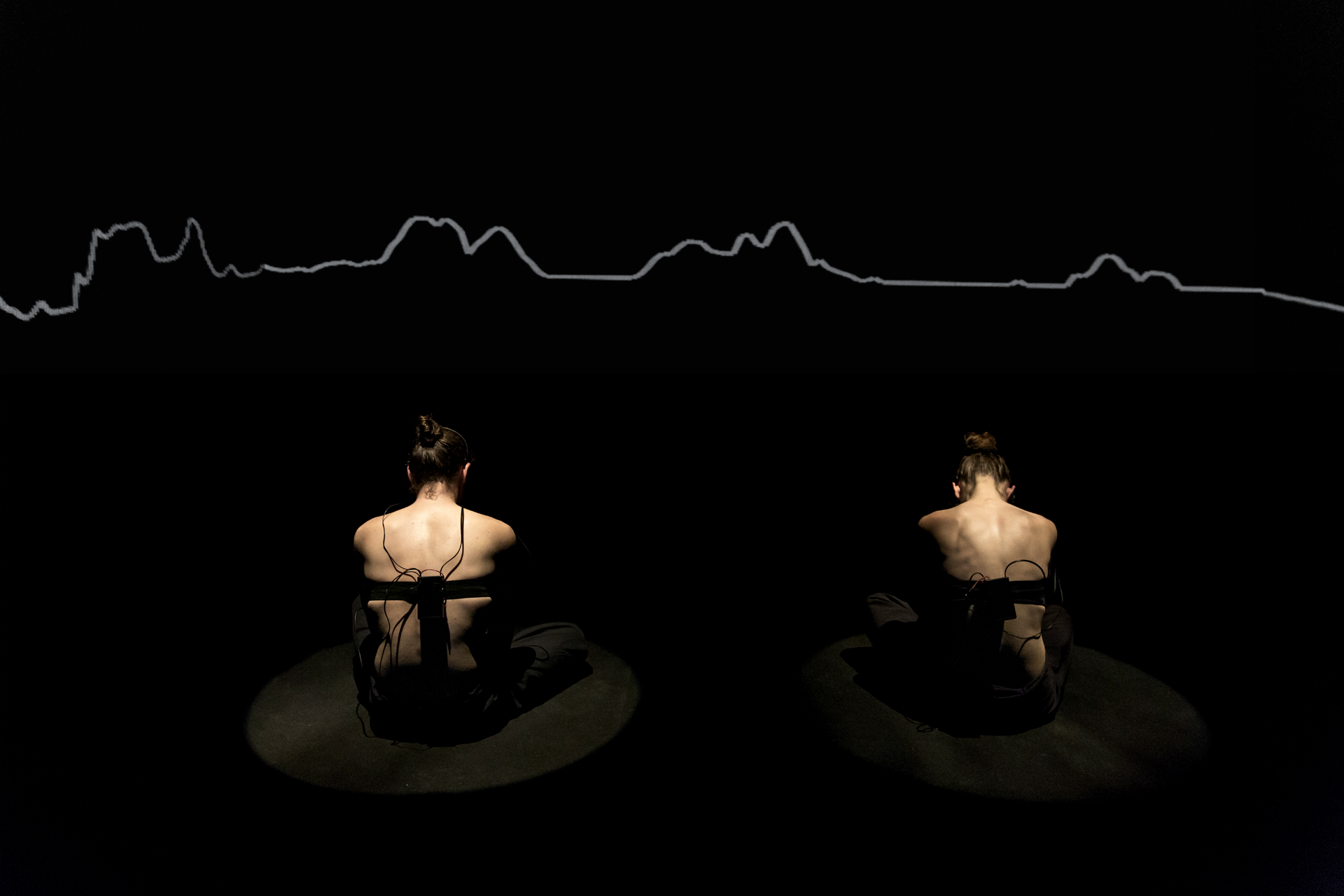 For NODE15 Antoni Rayzhekov and Katharina Köller extended the project 10VE with an interactive sound and video installation, that was shown in Mousonturm Theater during the exhibition "NODE: Wrapped in Code – The Future of the informed Body".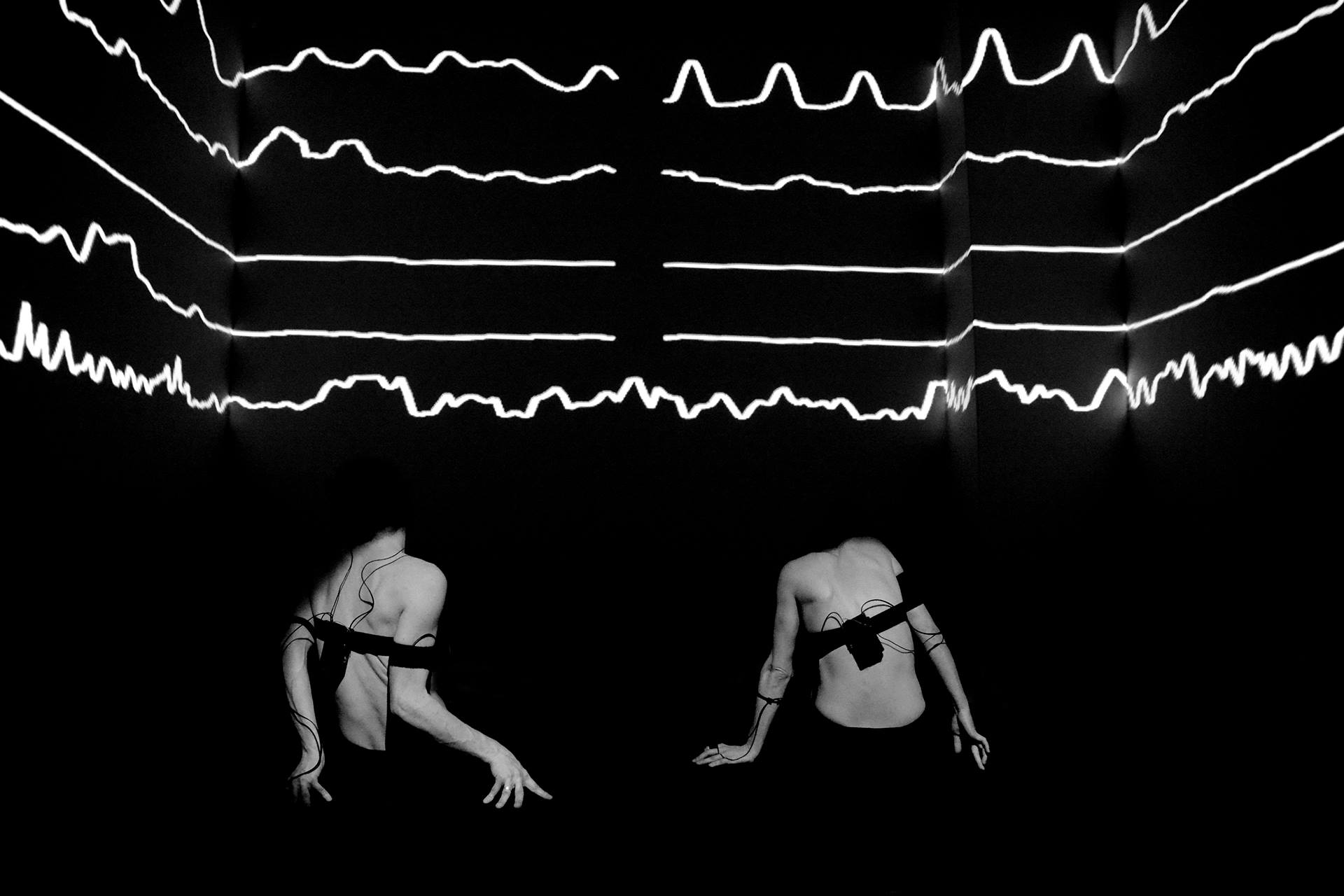 In May 2015 Antoni Rayzhekov and Katharina Köller were invited to perform 10VE at Žagarė Fringe Festival in Žagarė, Lithuania. They performed in Maluno Palace, Žagarė, 14 performances for approximately 3,5 hours, for an audience of 6 people in the beginning, then up to 9 people per performance.

In July 2015 10VE was chosen to be played at ALL THAT s JAZZ Festival in Novilla Art space, curated by Moving Poets at Kunst am Spreeknie, Schöneweide Art Festival, Berlin, Germany.

VIDEO DOCUMENTATION
10VE:Sequence for two | Ourique, Portugal | 2014
musical biofeedback & movement composition

by Katharina Köller & Antoni Rayzhekov

The piece was developed during our artist in residency at ATALAIA Artes in July-August 2014 in Ourique, Portugal.
Filmed at Cineteatro, Ourique on 3 August 2014.
Powered by SenseStage, VVVV, Max4Live


10VE @ Antiga Cadeia de Ourique, Portugal | 2014
participatory musical biofeedback & movement composition for two actuators and an audience

Public viewing of work in progress at ATALAIA Artes Performatives festival 4th Oct. 2014 at Antiga Cadeia de Ourique, Portugal

10VE
by

Katharina Köller & Antoni Rayzhekov


voice
Luanna Jimenes

assistance on site
Luanna Jimenes, Giuliano Obici, Ana Nobre, Helena Vaz, Miguel Gomes

special thanks to
ATALAIA
The Firefighter Brigade of Ourique

supported by
BKA Austria
ATALAIA Portugal

powered by
SenseStage, VVVV, Max4Live


10VE @ Žagarė Fringe Festival 2015 - Žagarė, Lithuania
participatory musical biofeedback & movement composition for two actuators and an audience


by Katharina Köller & Antoni Rayzhekov


Žagarė Fringe Festival
Maluno Palace, Žagarė, Lithuania

voice
Ieva Savickaitė

assistance on site
Židrija Janušaite photopgraphy
Airida Rekstyte
video footage
Gemma Riggs
Antoni Rayzhekov

translation to Lithuanian
Ieva Savickaitė, Ieva Juknytė, Vaida Tamoševičiūtė, Rosanda Sorakaitė

supported by
BKA - Kunst
powered by
SenseStage, VVVV, Max4Live


10VE Trailer 2014 - 2015
participatory musical biofeedback & movement composition for two actuators and an audience

including footage from
ATALAIA Artes Performativas Festival - Ourique Portugal 2014, Old City Prison
NODE15 Festival for digital Arts - Frankfurt Germany 2015, Mousonturm Theater
Zagare Fringe Festival - Zagare Lithuania 2015

Cover Photo by Jessica Schaefer supported by
BKA - Kunst
powered by
SenseStage, VVVV, Max4Live